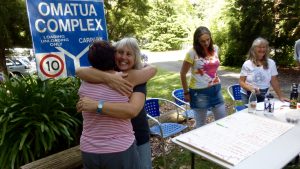 When you arrive the Welcome Team will greet you at the gate. Your registration information will be confirmed, you get to chose a Karma Yoga role, be invited into a mystical process to select a "Heart Group" and then directed to where you will sleep (camping area or one of the houses).
Arrival time: Any time after 3 pm on Friday, January 7th.
Arriving after 3pm gives you time to register and settle in before dinner at 6pm. The Evening Programme and Welcome Ceremony begins at 7.30pm.
Karma Yoga is "the work that does itself " through you when you are having fun! It is a work offering of service for the benefit of the community. In this way everyone (except children) gets to actively contribute to the everyday running of the camp. Karma Yoga jobs usually take a small amount of your time each day and includes one of the following: veggie chopping, helping with dish washing, clearing tables, toilet or shower cleaning, serving in the cafe, or other little jobs that keep our camp running smoothly for everyone. This is a great opportunity to connect with people as you work together!
Suggested Things to Bring:
Plenty of bedding, as the nights can be surprisingly cool
Folding chair or camping/yoga mat for sitting in the marquee and Heart Group
Swimming gear – there is a swimmable stream on site
Sunscreen, hat, and insect repellent
Raincoat (just in case!)
Torch
Warm clothing (evenings can be cool)
Towels
Musical instruments
If you're camping bring your own tent and all bedding, including mattress 
If you're in a shared house bring a pillow case, sleeping bag or single-bed sheets, and duvet or blankets (hot water bottle?).
IF COMING FROM OVERSEAS, please let us know if you'd like to borrow a tent or bedding ~ we'll do our best to meet your needs.
Things to leave at home: Pets, alcohol, tobacco, electronic / internet devices and other things that beep and flash!