Please note that REGISTRATION IS CLOSED FOR 2021.

Youth Scholarships (18 - 30 Years)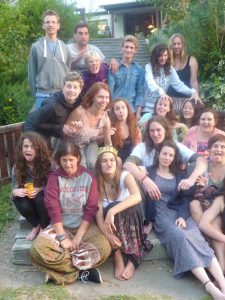 Each year Dance Camp Aotearoa makes some scholarship funds available so the Dance Camp experience is affordable for young adults. Grants from DUPNZ and Oneness Foundation generously contribute to this fund (our thanks go to them!).
If you are a young adult and wish to apply for scholarship please fill out the online Scholarship Application form on this website.  Note that the number of scholarships are limited and varies each year. Please check the Kaiãwhina opportunities as your first option, as we need a number of Beloveds to help us out in those roles.
Adult Scholarships (30+ Years)
The generosity of the camp community during the Auction, Market Day, Cafe and personal donations all create another opportunity to support those who would struggle financially to attend Dance Camp. To apply please use the quick form on this website to outline the circumstances that make it difficult for you to cover the full cost of attending (a simple explanation of your financial difficulty).
NOTE: Scholarships are available for full-week participation only.
Each application will be considered individually and confidentially. The number of scholarships is limited and varied, depending on the amount of funding received the previous year. (Please note: prior recipients of a scholarship may unsuccessful for another scholarship award).
Early scholarship applications will be processed and decided by October 10th.
Applications received after that date will be considered if funds remain, in a second round by November 30th.
Unfortunately, we are unable to consider scholarship applications after November 30th. Kaiãwhina positions may still be available, depending on demand, and you are encouraged to consider that opportunity.